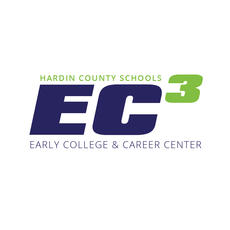 Upperclassmen at John Hardin, North Hardin and Central Hardin high schools who are pioneering the Early College and Career Center pathways have an opportunity Aug. 4 to tour their future school.
Hardin County Schools' EC3 is hosting an open house for students and parents of students attending the center in the 2014-15 school year. The open house is from 6:30-8:30 p.m. and is the same night the three high schools have their open house events, which are from 6 to 7:30 p.m.
EC3 Principal Dan Robbins said the intent is for students to receive class schedules at their home schools and then visit EC3 for a preview of the new classrooms.
The doors of EC3 officially open Aug. 6, the first day of school for HCS students.
A little more than 500 students will attend EC3 this year, according to Robbins. The center is divided between morning and afternoon sessions. Students taking classes at EC3 in the morning will return to their regular schools in the afternoon and students attending EC3 in the afternoon will be at their regular schools during morning hours. Students have the option of driving themselves to the schools or using bus transportation that will be provided.
EC3 students will take courses from one of seven pathways, or career tracks. These include health science, engineering with Project Lead the Way curriculum, advanced manufacturing, automotive technology, information technology, welding and culinary arts.
Students also have the ability to take dual credit courses through Elizabethtown Community and Technical College, Western Kentucky University or Sullivan University. Robbins said students may sit in an EC3 classroom and take college credited classes at WKU through the distance learning labs.
"Our students will be using real-life experiences to solve real-world problems on the first day of school," Robbins said. "We are beyond excited."
The final stages of the building are taking shape. Robbins said Thursday the EC3 administration and staff could receive its temporary certificate of occupancy in the next week so they can begin moving in.
HCS spokesman John Wright said equipment and everything going into the building is new, aside from a few items administrators need to bring from their temporary offices at the HCS Central Office.
"We're ready to move in and get started," Robbins said. "This is probably the most exciting experience in my teaching career. Even more than my first day."