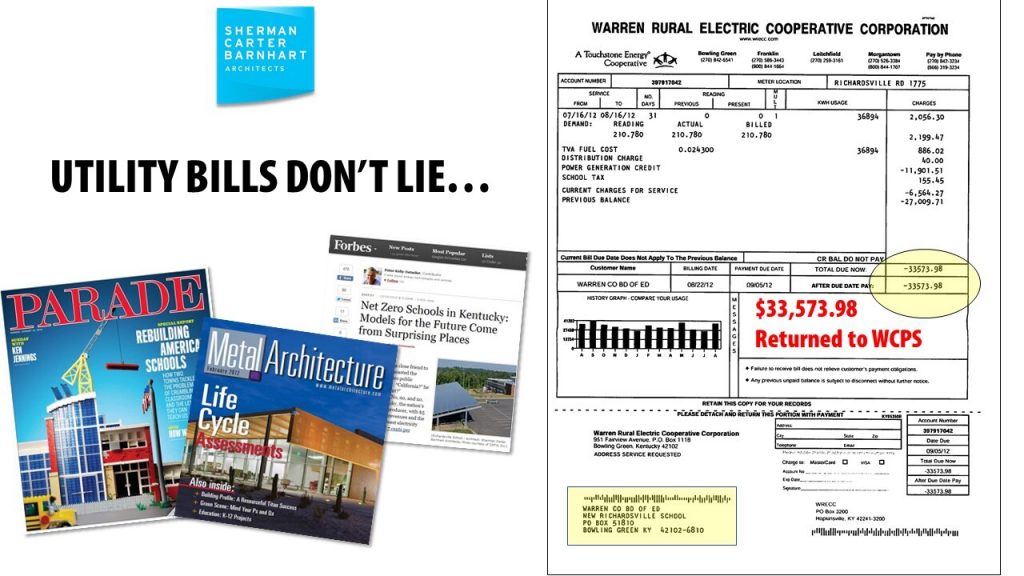 When writers at Architect Magazine looked to highlight an architect who has led the way nationally in designing zero energy schools, editors pointed them to Sherman Carter Barnhart Architect's Kenny Stanfield, AIA,LEED AP. 
As that article, published recently in the magazine, pointed out, it was a slide from Stanfield's 21st Century Energy and Education presentation that particularly highlighted the reasons for interviewing him:
"The sight of slide 35 generally produces an audible gasp.
After all, what school board member expects to see a monthly utility bill converted into a five-figure income? Income that can translate into funds to hire staff, increase salaries, or make capital improvements that are sensitive to the environment.
Welcome to the world of architect Kenny Stanfield. His firm, Lexington, Ky.–based Sherman Carter Barnhart Architects, is helping transform Kentucky K-12 education through zero energy design and construction. Their burgeoning portfolio of zero energy-compliant, -ready, and -emerging schools now numbers 23 and counting."
Sherman Carter Barnhart has led the nation in Zero Energy Schools since it designed its first in 2010. Groups of government and school officials from all over the country and other countries have visited Zero Energy schools designed by Sherman Carter Barnhart since then. Stanfield has spoken at numerous conferences, board meetings and seminars celebrating the financial and community benefits of zero energy school design.
The firm hasn't slowed down since 2010. Sherman Carter Barnhart has designed two Zero-Energy, 11 Zero-Energy Ready and 11 Zero-Energy Emerging schools across the region. Each project has saved school districts hundreds of thousands of dollars on energy bills.
Many of the projects have implemented the innovative use of Insulated Concrete Forms, a wall system formed by stacking foam-framed blocks to create a cast-in-place concrete wall. The resulting envelope was quickly recognized as the essential first step in achieving Net-Zero compliance. (Learn more about ICG here)
Mike Smith, Sherman Carter Barnhart's President, said the work from Stanfield and his team exemplifies the philosophy of the firm.
"At Sherman Carter Barnhart we believe everyone deserves exceptional design and exceptional design can improve people's lives and inspire them," Smith said. "There is no greater embodiment of these principles than our zero energy design.
"Zero Energy design really is an approach that improves everyone's lives in a variety of ways. In the example of our K-12 studio everyone, teachers, students, parents, administrators, maintenance staff, benefits from zero energy design. The students and teachers have a healthy, sustainable environment in which to spend their day. The kitchen cooks healthier food and saves energy. The staff, administrators and parents benefit from reduced energy bills by being able to have more money to spend on educational expenses like instructional materials, books, and salaries. The maintenance staff has a building that is easier to maintain and requires less overall maintenance. Our innovative, thoughtful, sustainable designs create environments that inspire people to live healthy lives."
Subscribe To Our Newsletter
Get updates on our projects and follow our Blog for tips and news about architecture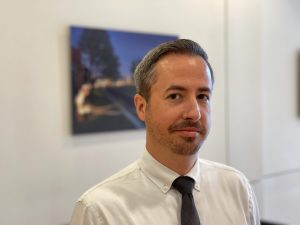 Housing
Brandon Ward, an associate principal at Sherman Carter Barnhart Architects, focuses exclusively on affordable housing and has been part of the firm's team since 2005.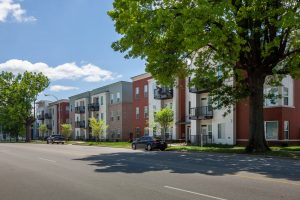 Housing
Louisville's Business First magazine recently highlighted the completion of two phases of the Beecher Terrace development — a public-private partnership between Sherman Carter Barnhart Architects